Craig Pianka Wins Sportsman Thriller at Seekonk Speedway
Puts BFR Chassis in Victory Lane in First Win of Season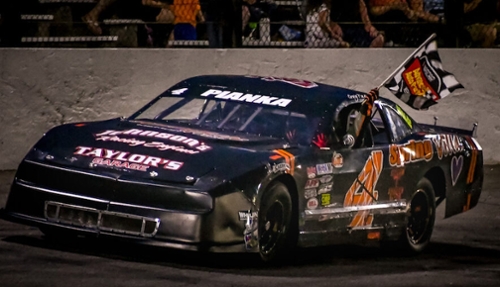 By Souza Media/Kyle Souza
SEEKONK, Mass. — On Helger's South Coast Power Equipment night at the track, the Helger's Sportsman didn't disappoint, with Craig Pianka coming out on top of a slugfest for the win in the final laps. Although there was exciting action throughout the 26-car field, the real battle was at the front at the finish, as Pianka and five-time division winner Chad Baxter fought tooth and nail over the final 10 laps.
It was Pianka, the man they nickname "Captain Fun", who was in the right spot, out in the lead. Baxter tried just about all of the tricks in his bag, attempting to use the top, the bottom, and even trying to use the front bumper a few times to kick Pianka out of the bottom groove. However, it was clear Pianka wasn't going to be denied on this night, sliding off turn four for the checkered flag and besting Baxter at the finish by less than three car lengths.
Baxter would settle for second, opening his points lead a bit more entering the stretch run, while Steve Axon, who entered the race as the most recent winner in the division, would finish third. Ed Perry was fourth and Corey Fanning fifth. Adam Pettey finished sixth, followed by Joe Kohler, Chris Gomes, Mike Teague and Tyler Almeida.
The Helger's South Coast Power Equipment Sportsman will return to the track on Saturday, August 14, with another 25-lap feature.
For more information on Seekonk Speedway, visit SeekonkSpeedway.com and follow the track on social media.
###
Posted: to Racing News on Sun, Aug 8, 2021
Updated: Sun, Aug 8, 2021