Tyler Leary Celebrates NHSTRA Modified Win
Takes Checkers at Monadnock Season Opener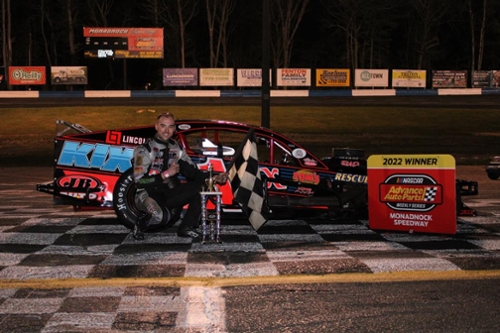 MAY 7, 2022 -
WINCHESTER, N.H. – Tyler Leary (Hatfield, Ma), a two-time winner in NHSTRA Modified competition a year ago, topped the field of open-wheel missiles Saturday, May 7, at Monadnock Speedway, earning his first win of the season at the storied quarter-mile oval.
Jaret Curtis, he of the celebrated Rutland, Mass. teen Curtis racing twins, made his first Monadnock run of the summer a memorable one, acing the night's Late Model Sportsman 25-lapper, and Bay State pilot Keith Johnson (Winchendon, Ma) scored his first career feature win, holding off all challengers in the Street Stock main.
Gordon Farnum (Fitzwilliam, NH), who piled up a phenomenal eleven wins last year, took his first Mini Stock victory lap this year on Saturday, while Kyle Robinson Newell (Swanzey, NH) stayed perfect on the young season with his second Pure Stock victory and Claremont's Colton Martin won his first-ever in the Young Guns.
With a stack of Modified teams sidelined this weekend by supply chain issues preventing them from rapidly rebuilding from last Sunday's turn-four big one, and a few others taking the night off due to alternative Mother's Day weekend plans, the Mod Squad line-up was unusually slight in volume.
Leary, though, wasn't focused on big numbers. His only objective was the number one; first in time trials, first on every lap, and first in the fledgling 2022 points parade. And off he went.
Third in champ points a summer ago, the Hatfield, Mass. speedster served early notice of his intent to move up two spots this campaign. Ben Byrne did well Saturday too, finishing close behind Leary in the Modified main, with veteran rocker Russ Hersey, also aboard a Team Byrne ride, passing Nate Wenzel on lap 26 to come home third on the night.
Like Leary, Curtis took full advantage of the early season heads-up start format, leading all the way in the LMS 25-lapper. It was his first win here since leading brother Chase under the checkers a year ago,Leo Martin seemed to have second locked up until a bizarre final-turn spin moved week-one winner Ryan Currier up to second, and strong and steady Cole Littlewood to third, with Martin taking the checkers fourth in reverse after spinning out of the top three.
Street Stocker Keith Johnson, a forgettable 12th on opening day. Johnson wired Saturday's feature, holding Tim Wenzel in his shadow most of the way to score his first win ever on the high banks. Wenzel was strong in second, with Scott Zilinski's solid performance bringing him home third.
Gordon Farnum was third in the Mini Stock opener. Saturday, he was on fire. Taking the lead from Kevin Clayton on lap two, he never looked back en route to his first win of the season. Jeff Asselin's late-race surge netted him second, with division rookie Nick Houle strong in third.
Teen sensation JD Stockwell led the first two circuits of the Pure Stock feature but when the Bay State pilot's ride threw a shoe on lap three, week-one victor Kyle Robinson Newell pounced on the lead and never looked back.
Chris Davis was all over Robinson Newell the whole race but the cool-headed veteran chose to keep his car in one piece and live for another dance by settling for a well-earned second. Green Mountain Boy Freddie Rogers, a veteran of many long-ago Lightning Stock battles at Monadnock, was solid in third in Saturday's Pure Stock feature.
Young Gun Zach Zilinski, hoping to duplicate his opening weekend victory, led the first three laps of Saturday's novice feature, then suddenly dropping off-pace as Colton Martin blasted to the point and drove away.
Second-year gunner Dominick Stafford, way out of the money last Sunday, was strong in second this time out, and Aaliyah Tacy finished her second top-three outing in third.
Next Saturday, May 14, Monadnock Speedway will host the first round of the prestigious 2022 multi-track Teddy Bear Pools Street Stock Triple Crown Series, with an All-Star cast expected in to battle in the night's 50-lap main event. The night's event card will feature six divisions of NASCAR sanctioned racing events, with post time set for 6 p.m.
For more information, visit https://www.monadnockspeedway.com
Posted: to Racing News on Wed, May 11, 2022
Updated: Wed, May 11, 2022