Craig Pianka Does it Again!
Takes 3rd Win of Season in Sportsman at Seekonk Speedway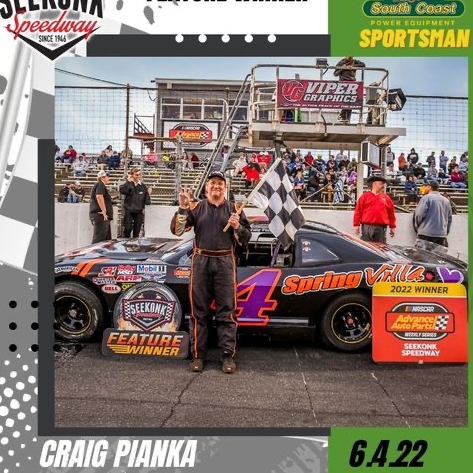 PURPLE PASSION: Pianka Makes It Three Early Season Wins in Sportsman
By Souza Media
SEEKONK, Mass. — For the second straight week, Craig Pianka was in the right place, at the right time, with speed to get the job done. In Saturday's 25-lap Helger's South Coast Power Equipment Sportsman feature, Pianka raced to the front of the pack, and when the caution flew just after the white flag, setting up a green-white-checkered finish, Pianka took advantage.
Using the outside lane, the veteran drove the No. 4 to victory — passing leader Adam Petty to take the impressive victory. It was Pianka's third win in four Sportsman races early this season, flexing his muscle in the competitive class.
Petty, who dominated much of the race, had to settle for second on this night, while Jimmy "Pepe" Silvia had a flashback from the past, working the third groove to the podium. Colby Lambert and Steve Axon finished the top-five.
Scott Serydynski Jr. finished sixth, followed by Donald Perry, Tyler Almeida, Crystal Serydysnki and Cody Tripp.
For more information on Seekonk Speedway, visit SeekonkSpeedway.com and follow the track on social media for the latest updates. Fans can buy tickets today for all of the 2022 events at SeekonkSpeedway.com.
Posted: to Racing News on Sun, Jun 5, 2022
Updated: Sun, Jun 5, 2022