Hunter Sanchez Takes Checkers at Albany Saratoga
Puts BFR Chassis Dirt Street Stock in Victory Lane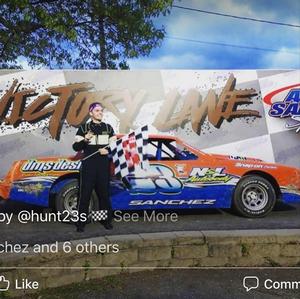 MALTA, NY – Everyone loves Memorial Day Weekend.
While most people look forward to parades, cookouts and watching the Indy 500, Brett Hearn looks forward to sitting in victory lane at Albany-Saratoga Speedway.
Hearn took advantage of a late restart to win Friday night's 35-lap modified feature at the historic Malta oval, continuing what has become a holiday tradition.
Since 2012, Hearn has won the Memorial Day weekend feature four times. Two of the other races were rained out, and in 2016, he finished second to Marc Johnson. That's five top-two finishes in the last six holiday races.
By racking up his first win of the season, Hearn added to his career record at Albany-Saratoga, running his chart-topping total to 134 victories.
After starting 11th in the 25-car field, Hearn used two early restarts to jump up to sixth after just five laps. He and Matt DeLorenzo then hooked up and began moving forward, with DeLorenzo taking the No 3 spot away from second-year driver Jack Lehner on lap nine, and Hearn moved past Lehner on lap 13.
Neil Stratton, who had started on the pole, set the pace for the first 18 laps, but things quickly changed for the Vermont driver. On lap 18, Stratton had to jump on the brakes to avoid slamming into C.G.Morey and Kyle Armstrong, who had banged together in the fourth turn. Stratton survived the near miss and retained the lead, but when the yellow flag came out for the incident, he didn't survive the restart.
Jackie Brown Jr. took advantage of that restart to rocket past Stratton and quickly opened up a comfortable lead, while DeLorenzo and Stratton battled for second, just in front of Hearn and Kenny Tremont Jr.
A couple of laps later, Hearn finally got by DeLorenzo, and that proved to be the big move of the race.
Don Mattison brought out another caution on lap 28 when he came to a stop in the second turn, and on the restart, Hearn went to work. He went under Stratton in the second turn on lap 30, and used the same move on lap 32 to move past Brown and take the lead for good.
While Hearn was recording win No. 134, Brown's second-place run was his best career finish at Malta. Tremont finished third, followed by DeLorenzo and Stratton.
"The [last] restart helped," said Hearn. "But what really helped was getting by Matt. He was tough to get around. I seemed to be a little better when I was on top chasing Matt, and I thought I could find something in the middle, and I did.
"This track is awesome," he added. "You can race anywhere."
Instead of being disappointed to finish second, Brown had an ear-to-ear smile after the race.
"We were fast," he said. "I think we've finally got the right pieces together."
Stewart Friesen, who had a night off from the NASCAR Gander World Truck Series, showed up at Albany-Saratoga to get in a little dirt racing, and finished sixth, but that doesn't really tell the story of his night. He was involved in a little mishap on a restart on lap three, and quickly pulled into the hot pit area to have the sheet metal damage to his left rear looked at. When he came back out, he was in 21st place, but rocketed up to a sixth-place finish.
Chris Johnson recorded his second straight win in the 25-lap sportsman feature, which was part of the Dean's Electrical Sportsman Shootout Series and paid $1,000 to win. Jeremiah Munson, driving the John Kollar-owned 10%, started on the pole and was fast early, but so were Johnson and Tim Hartman Jr., who had started deeper in the bulky, 34-car field.
When a restart bunched up the field on lap 15, Johnson only needed two laps to take the lead away from Munson, leaving Hartman and Robert Bublak Jr. to battle for second. Bublak won that skirmish, with Hartman third, Munson fourth and Jeremy Pitts fifth.
Brandon Gray had to hold off a last-lap challenge from Ed Thompson to win the 25-lap pro stock feature. Thompson squeezed under leader Nick Stone coming out of the fourth turn on lap 23 to move to the front, but when Stone tried the same move to regain the spot the next time around, he ended up spinning in turn four, bringing out a caution.
On the restart, Gray used the high line to get the lead. But Thompson wasn't done. He pulled even with Gray going into the fourth turn on the final lap, but Gray had enough momentum built up to get his first win of the year, beating Thompson to the finish line by .064 seconds.
Tucker O'Connor recorded his first career win in the 20-lap Haun Welding limited sportsman feature. O'Connor started sixth in the field, but had the lead after just two laps. He then had to survive five restarts and a strong challenge from Bill August to get the victory. Bryan Jones Jr., looking for his second straight win, had to settle for third.
Hunter Sanchez, making his first appearance of the season, made a good first impression, winning the 15-lap Lake Auto Parts street stock feature. Despite staring last in the 13-car field, he got the lead following a restart on lap 10 and pulled away, leaving Randy Miller and Jimmy Duncan to duke it out for second. Miller got the No. 2 spot for good when he moved under Duncan in turn two on lap 14.
The four-cylinders were also in action Friday, night, with Jason Lang taking advantage of a late restart to move past David Frame to get his first win of the year. Robert Garney finished fifth overall, and was the first single-cam car across the finish line.
MODIFIEDS: Brett Hearn, Jackie Brown Jr., Ken Tremont Jr., Matt DeLorenzo, Neil Stratton, Stewart Friesen, Mike Mahaney, Don Ronca, Jack Lehner, Ronnie Johnson, Jessey Mueller, Rocky Warner, Peter Britten, Marc Johnson, Bobby Hackel IV, Keith Flach, Kris Vernold, C.G. Morey, Jim Nagle, Don Mattison, Kyle Armstrong, Rich Ronca, LJ Lombardo, Olden Dwyer, Justin Barber.
SPORTSMAN: Chris Johnson, Robert Bublak Jr., Tim Hartman Jr., Jeremiah Munson, Jeremy Pitts, Connor Cleveland, Jim Osgood, Daryl Nutting, Andrew Buff, Fred Proctor, Stephen Kneer, Marty Kelly III, Kale Groff, James Meehan, Jon Miller, Derek Bornt, Jason Gray, Dave Baranowski Jr., Derrick McGrew Jr., Mike Tholin, Joey Scarborough, Mike Ostrander, Justin Buff, Butch Wilcox, Mike Coffey Jr., Travis Billington, Elliot Lussier, Michael Wagner Fitzgerald, Tony Ballestero, Pat Jones, John Stowell, Nick Lussier, Jack Speshock, Chris Ronca.
LIMITED SPORTSMAN: Tucker O'Connor, Bill August, Bryan Jones Jr., Dave Richer, Dylan Bokus, Matt Rich, Randy Myers Jr., EJ McAuliffe, Travis Witbeck, Bryant Moore, Gerard LeClair, Shane Larman, Jim Mattison, Jared Powell, Ron George Jr., Johnny Bruno, Spencer Rapp, Mike Furmont, James Hinman, Bryce Breault, Brett Hackel, Kyle Hoard, Thomas Van Vorst Sr., Scott Bennett, Mark Robideau.
PRO STOCKS: Brandon Gray, Ed Thompson, Jason Meltz, Dan Older, Josh Coonradt, Brandon Emigh, Scott Towslee, Dean Charbonneau, Kim Duell, Jason Corbin, Darrell Older, Chris Wemple, Yates Lansing, Matt Roberts, Mike Baker, Jay Fitzgerald, Nick Stone, Nick Arnold, Chucky Dumblewski, Dan Madison.
STREET STOCKS: Hunter Sanchez, Randy Miller, Jimmy Duncan, Pete Vila, Jeff Meltz Sr., John Filarecki, Al Relyea, David Cook, Josh Hemming, John Hayes, Jason Barrett, Tom McFarland, Mark Burch.
4 CYL SINGLE CAM: Robert Garney, Allana Jordan, Wayne Russell, Cordelle Younger, Jacxson Ryan, C.J. Shepler, Tim Billington, Dale Van Allen, Zach McSpirit, Corbin Lavoy, Johnny Bennett, Dain LaCross
4 CYL DUAL CAM: Jason Lang, David Frame, Jim Bleau, Steve Ryan, Cole Lawton, PJ Cram, Josh Samrov
For more information, visit www.albany-saratogaspeedway.com

Posted: to Racing News on Mon, May 27, 2019
Updated: Mon, May 27, 2019