Mike O'Sullivan Takes Checkers at Thompson Ice Breaker
Granite State Champ back in Victory Lane, Jeff Connors Takes Third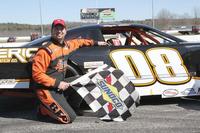 From Vermont Motorsports Magazine
--by Michael Stridsberg (@OntheMike43)
VMM Correspondent

THOMPSON, Conn. -- Mike O'Sullivan won't be at every Granite State Pro Stock Series in 2014, but he's still the man to beat when he is.

The defending series champion took the lead on lap 20 after early leader Wayne Helliwell, Jr., had a right front tire go down, and was never headed en route to the win in the season-opening Icebreaker at Thompson Speedway Motorsports Park. It was the first win in GSPSS action at Thompson for O'Sullivan, who is a former weekly Pro Stock champion at the track. After starting third, he withstood constant pressure from Jeff Connors as well as a late charge from last year's World Series winner Larry Gelinas to seal the win.

"A lot of those guys have a lot of laps here," O'Sullivan said in victory lane. "You've got to step it up a little bit. It's not just weekly racing anymore."

The Springfield, Mass., driver, who is running a partial schedule this year due to the impending birth of his third son, made it clear that he's still racing to win when he shows up.

"I really put a lot of effort into this winter trying to make the car a little better," he said. "Even though we came away with a championship last year, I thought we needed to be better."

Multi-time American-Canadian Tour champion Helliwell dominated the early stages of the race from the pole until his tire problems. While being challenged by O'Sullivan and Connors, Helliwell shot up the track in turn two and scraped the wall before eventually rolling to a stop in turn three.

"We must have run something over, because the tire just went down. We can't really pinpoint exactly what it was," Helliwell remarked after the race. "For about the last three laps (before the tire went down) it just started feeling like it was falling over on the right front."

Series officials issued a one-lap penalty to Helliwell for intentionally drawing a caution. The Dover, N.H., acknowledged that this played a role in him eventually retiring from the event.

"If that's their rule, that's fine, I have no problems with that," he said. "We just wanted to put a new tire back on and make sure there was nothing wrong with the car."

Connors was the biggest challenger to O'Sullivan after Helliwell's misfortune, but appeared to develop a lose condition late in the race. He dropped back into the clutches of Scarborough, Maine native Gelinas, who used a bold move in turn one with two laps to go to take the runner-up spot.

"I took a chance and went in there pretty hard, and I slipped up and kind of rubbed him," Gelinas, a former Thompson Pro Stock champion, said. "He was good about it. And I ended up getting by. I was lucky. He was a good sportsman about it, and it turned out okay."

Ellington, Conn., driver Connors ended up third, with series rookies Bradley Babb of Windham, Maine and Dillon Moltz of Waterford, Conn., finishing fourth and fifth after battling side by side for nearly half the race.

"It was basically just typical Thompson trying to pass each other. Just send the thing under someone and hope it sticks and hope you don't run the guy in the wall," Babb said. "It was really a fun battle. We both agreed it was a good time."

Pro Stock veteran Matt Frahm took sixth place, with Barry Gray in seventh. Derek Griffin, Corey Robert, and Keith Caruso rounded out the top ten.

O'Sullivan's brother Tommy started last on the field after an engine change following Saturday's qualifying. He quickly moved up to 11th in the early going, but soon developed a skip in the new engine and was forced to retire.

The Granite State Pro Stock Series returns to action on May 24 at Monadnock Speedway. They will make the trek back to Thompson for their season finale on October 18-19 as part of the World Series of Racing.

UNOFFICIAL RESULTS -- Icebreaker 50
Granite State Pro Stock Series -- Thompson Speedway Motorsports Park, Thompson, Conn.
Sunday, April 6, 2013

Pos.-(Start)-Driver-Hometown

1. (3) Mike O'Sullivan, Springfield, Mass.
2. (5) Larry Gelinas , Buxton, Maine
3. (4) Jeff Connors , Ellington, Conn.
4. (6) Bradley Babb , Windham, Maine
5. (7) Dillon Moltz , Waterford, Conn.
6. (8) Matt Frahm , Hampstead, N.H.
7. (10) Barry Gray , Belchertown, Mass.
8. (18) Derek Griffith , Hudson, N.H.
9. (14) Corey Robert , Canaan, N.H.
10. (2) Keith Caruso , Milbury, Mass.
11. (15) Greg Nanigian , Braintree, Mass.
12. (16) Ryan Lineham , Coventry, R.I.
13. (12) Billy Brady , Marston Mills, Mass.
14. (19) Ronald Smith , Oakham, Mass.
15. (11) Carl Eriksson , Deep River, Conn.
16. (13) Mike Parks , Walpole, N.H.
17. (1) Wayne Helliwell, Jr. , Dover, N.H.
18. (20) Tommy O'Sullivan , Wilbraham, Mass.
19. (17) Erick Sands , Farmington, N.H.
20. (9) George Bessette , Danbury, Conn.
Posted: to Racing News on Mon, Apr 7, 2014
Updated: Mon, Apr 7, 2014