Welcome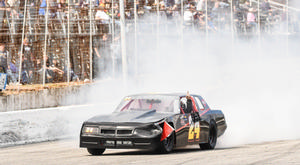 Celebrating 25 years 1995 - 2020
Thank you for stopping by to check out BFR Chassis! BFR Chassis is the leader in the Late Model chassis fabrication industry with clients throughout New England. Whether you're a veteran racer or a rookie, BFR Chassis can put you in the Victory Lane!
We are located in beautiful Western Massachusetts, in the town of Whately, right off Interstate 91, about 30 minutes from Springfield. Our shop includes space for new chassis fabrication, repair, and assembly. We offer all areas of service including manufacturing, fabrication, interior metal and body work, assembly, technical help and set-up assistance.
What sets us apart from others? We have built winning race cars for more than 25 years, with more than 900 wins and 50 Track Championships to date. Whether you are interested in a DARE Stock, Late Model, ACT Late Model, Granite State Pro Stock, Super Late Model, Min-Stock, Limited Late Model or Strictly Stock, we can provide you with a winning chassis. We have the experience and knowledge through refined design and research of our chassis. In addition, we receive valuable feedback from successful drivers, allowing us to continually improve our chassis. We'll do the homework for our customers with a geometrically correct front suspension, avoiding you the headaches and hassles. We also offer several types of rear suspension types and designs to meet customers' wants and needs.
Whether you are in the market for a bare roller frame or a complete race car chassis, interior and exterior body and glass (everything less motor, transmission), or refurbishing your existing race chassis, we can work with you, and within your budget, to accomplish your goals We pride ourselves on the quality craftsmanship we put into each race car we build; from the welding, sheet metal work, to the complete assembly. We invite you to give us a call today to discuss your racing needs at (413) 247-0175.
Our shop hours are Monday through Friday, 7:30 a.m. – 7:30 p.m. and Saturdays 8:00 a.m. – 5:00 p.m.
Posted: Fri, Aug 30, 2019 01:59 PM
Updated Sun, Sep 15, 2019 12:00 AM